PRACTICAL TRAVEL INFORMATION

The 2019 edition of the Aerospace Structural Impact Dynamics International Conference takes place in Madrid, Spain, at the Escuela Técnica Superior De Ingenieros Industriales (ETSII), main auditorium, June 4th, 5th, and 6th.
Conference Location:
Escuela Técnica Superior De Ingenieros Industriales (ETSII),
Main Auditorium

Conference Venue Address:
Calle de José Gutiérrez Abascal, 2,
28006 Madrid, Spain
Travelling to Madrid:
Madrid is one of the best connected cities in Europe. Endowed and strategically situated, Madrid is the most convenient travel entry point into Spain. Here are the best options for your Madrid travel reservations:
MADRID AIRPORT:
–

Location: Avenida de la Hispanidad s/n. 28042 Madrid
Telephone: (+34) 902 404 704
Web: http://www.aena.es/es/aeropuerto-madrid-barajas/index.html
Airport Code: MAD
Madrid-Barajas Airport is located on the northeast Barajas district of Madrid, only 12 kilometers from Madrid's city center. The airport changed its name from Madrid-Barajas to Adolfo Suárez Madrid-Barajas in 2014.
Adolfo Suárez Madrid-Barajas is Spain's busiest airport. It's the 5th busiest in Europe and 15th. in the world in terms of passenger traffic with more than 32 million passengers per year. Madrid Airport has 5 passenger Terminals (1, 2, 3, 4 and 4S).
Airlines Flying Non-Stop to/from Madrid:
Aer Lingus
Aeroflot
Aerolineas Argentinas
Aeromexico
Air Canada
Air China
Air Europa
Air France
Air India
Air Italy
Air Transat
Alitalia
American Airlines
Austrian Airlines
Avianca
Avianca Brasil
Boliviana de Aviacion
British Airways
Brussels Airlines
Cathay Pacific
China Eastern
Copa
Czech Airlines
Delta
EgyptAir flights
EL AL Israel Airlines
Emirates
Ethiopian Airlines
Etihad Airways
Finnair flights
Iberia
Icelandair
Japan Airlines
KLM
Korean Air
LATAM Airlines Group
LOT
Lufthansa
Norwegian
Qatar Airways
Royal Air Maroc
Royal Jordanian
SATA
Saudia
Singapore Airlines
SWISS Air
TAP Air Portugal
Turkish Airlines
Ukraine International
United Airlines
Transport from Madrid Airport to/from Madrid city center:
– Metro
– Train
– Uber, Lyft, etc.
– Taxi (NOTE: By law a taxi fare to Madrid's city center is 30 euros)
– Bus
– Car Rentals
MADRID'S TRAIN TRAVEL:
–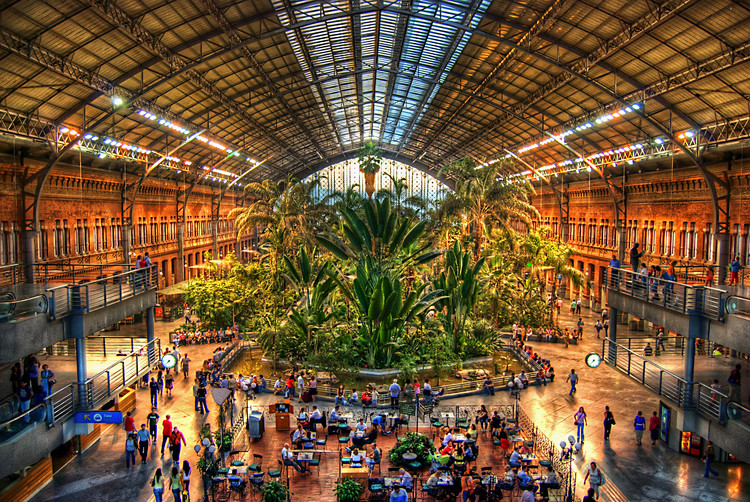 Address: 28045 Madrid, Spain
Telephone: +34 91 774 40 40
Web: www.renfe.es
Timetables and prices: http://www.renfe.com/EN/viajeros/horarios.html
Madrid's Atocha station has been in service since 1851. After a massive fire destroyed the original building, the railway station was rebuilt and reopened in 1892, a structure made of wrought iron and red bricks, a style typical of the time now constitutes a concourse and an impressive tropical garden. Today Atocha train station holds several transport options including Bus, Airport Shuttle, Metro, Cercanias (metropolitan area train service), intercity train,  and high-speed train services. It also offers convenient services including cafeterias, restaurants, shops, ATM's and excellent left luggage service.
The AVE, (high speed train) provides service to every high-speed station in Spain, and via transfer to the rest of Europe.
AVE Travel Information: http://www.renfe.com/EN/viajeros/larga_distancia/productos/
ARRIVING VIA HIGHWAY:
–

From Seville: A-4 (538 km.) (335 miles)
From Barcelona: AP-7 & A-4  (504 km) (314 miles)
From Paris: A-1 / AP8  (1053 km.) (654 miles)
From Toulouse: A-1 / A64  (799 km.) (496 miles)
Renovated highway and access roads and rapid highways provide precise connections to all points of the city and its surroundings. Madrid has become one of Spain's best connected cities by road, with highways connecting the entire Spanish territory and the rest of Europe.
Getting around Madrid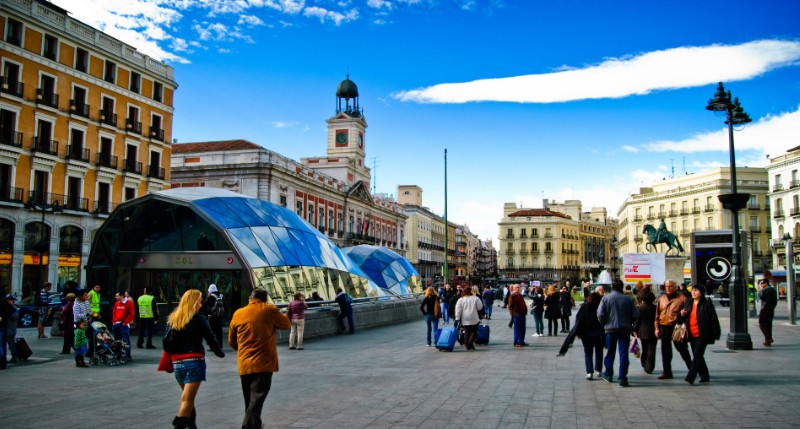 Tourist Travel Pass
Get around the city easily, quickly and economically is easiest with Madrid's tourist travel card which gives unlimited use to all public transport (Buses, Metro, etc.)
More information about Madrid Tourist Travel Cards: https://www.esmadrid.com/en/madrid-tourist-travel-pass
–
Uber or Lyft
Private car hire has become the most effective way to get around the city for those not familiar with Madrid. These services are regulated and compliant. These services are quite popular due to their set travel fees and convenient payment methods. Download any of these apps via your mobile phone.
–
Metro/Subway
Website: https://www.metromadrid.es/en/
The Metro system is the fastest, most efficient and reliable way of getting around Madrid. It is one of the largest metropolitan networks in Europe, connecting the entire city and a large part of the suburbs.
Boasting over 300 stations, the Madrid Metro currently comprises twelve metro lines, three Metro Ligero (tram lines) and a special Ramal line. Particularly useful for people visiting Madrid is Line 8 which goes from Nuevos Ministerios in the center to Madrid Airport (20 mins to T4 and just 12 mins to T1, T2 and T3).
The Metro runs from 6am to 1.30am, with trains departing every 2 minutes in the morning rush hour and every 15 minutes in the early hours (after midnight). Weekend schedules may vary. Fares range from 1.5-2.00 euros per single trip.
–
Bus
Run by EMT (the Municipal Transport Company), Madrid's efficient bus service is composed of 2000 vehicles and over 200 bus lines. Most of the city's main thoroughfares have a bus and taxi lane to ensure the free flow of transport through the busier parts of the capital.
Monday through Friday, buses run from 6am till 11.30pm. They generally pass every 4 to 15 minutes, although frequency depends on the line and the time of day. On weekends and public holidays, they run from 7am till 11pm and tend to be slightly less frequent. After 11.30 the city operates night buses (known as búhos, the Spanish word for owls). They run till the early hours of the morning and the fare is the same as for daytime buses.
To travel to and from Adolfo Suárez Madrid-Barajas you can take the Airport Express shuttle which goes to the center of the city, Single tickets cost 5 euros and must be purchased on the bus. This service runs 24 hours a day and takes about 40 min. to reach T4, and 35 minutes to reach T1-T2.
Interactive Bus Route Map: https://www.esmadrid.com/en/bus-map-interactive
IMPORTANT LOCAL INFORMATION: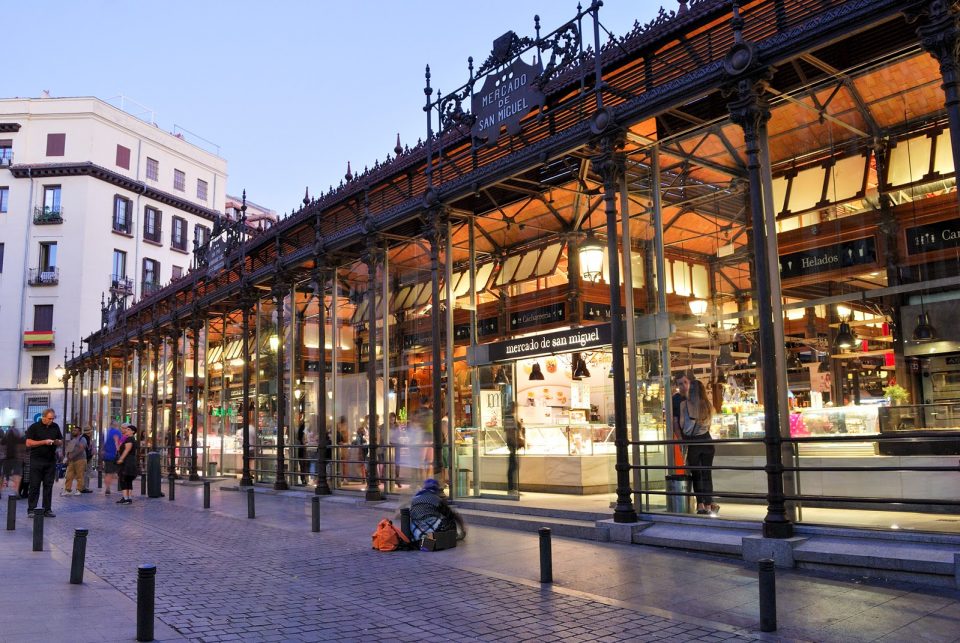 Schedules:
Meal schedules tend to take place later than the rest of Europe: breakfast between 7.30-10am. Lunch is served from 2 to 3.30pm and dinner starts around 9pm or 10:00pm.
Business Hours:
Business hours in the morning are from 10am until 2:00pm and in the afternoon from 5.00pm – 8pm. During the summer months, shops and businesses open a bit later in the afternoon, at around 5.30 or 6pm until 9pm. Department stores operate from 10am until 9pm without a break.
Electrical adapters:
Spain utilizes 220 – 240 V AC.
U.S. electrical appliances require the correct current and an adapter, which can be purchased at any electrical or hardware store (ferreterías).
Currency:
Spain's Currency: Euro
Note exchange: Remember to take into consideration exchange rate and commission, including credit card fees.
Credit Cards: Major credit cards are widely accepted.
Banking hours: most banks are open Monday thru Friday from 8.30am til 2 or 2.30pm.
ATM machines: located throughout the city offering 24 hour service, most of which provide international service.
Communications
Country Code for Spain: 0034 (+34)
Mobile Phones: You can use your own mobile phone, as long as it is setup for international use.
Click Here for Madrid Lodging Information >>