Aerospace
Structural Impact
Dynamics International
Conference 2015
November 17-19
Seville, Spain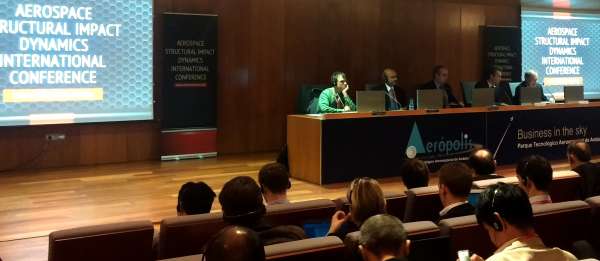 The 2015 edition of the Aerospace Structural Impact Dynamics International Conference (ASIDIC) hosted one of the most comprehensive international gatherings on crashworthiness with over 130 attendees from 17 counties. This three-day conference provided a forum  where participants learned about the latest aerospace crashworthiness regulations, certification by analysis methods for aircraft seat structures and interiors, bird strike, metallic & composite structures, impact dynamics, impact damage tolerance, computational and experimental techniques.
The 2015 keynotes provided a unique opportunity to have Dr. Rassaian from Boeing Research &Technology and Dr. Climent of Airbus Defense and Space share their perspective on impact technology. We also heard how presenters from different areas of the crashworthiness field are approaching the most challenging issues through the use of simulation and composites technology.
Four technical sessions were held with 39 lectures presented starting on Tuesday, November 17th, 2015 in Seville, Spain at Aeropolis the Aerospace Technoligical Park of Andalucia. There was a wide range of topics including regulatory presentations and Q&A sessions – as well as a myriad of topics ranging from Aircraft Ditching to Modelling Ice Impact on Aerospace Structures.
Best Paper Award for 2015:
Martin Annett, Justin Littell, Chad M. Stimson,
Karen E. Jackson, Brian H. Mason
NASA Langley Research Center 
for the paper and presentation:
Full-Scale Crash Tests and Analyses of
Three High-Wing Single Engine Aircraft
Companies and Institutions that were represented at ASIDIC 2015:
For an overview of ASIDIC 2015 Technical Program:
For an overview of the ASIDIC 2015 Worshops:
ASIDIC 2015 Keynote Speakers:
KEYNOTE SPEAKER, NOVEMBER 17: DR. MOSTAFA RASSAIAN
KEYNOTE SPEAKER, NOVEMBER 18: DR. HECTOR CLIMENT