Keynote Speaker Oct. 18th.
Profile: MICHEL MAHÉ
Dr. Michel Mahé will be our Keynote Speaker with the lecture "Dynamic Multiphysics Simulation Supporting Accident Root Cause Identification"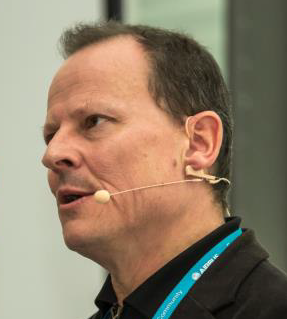 Dr. Michel Mahé is a Senior Expert for Dynamic Analysis at Airbus Commercial Aircraft. Additionally Michel is leading the Airbus Structural Analysis Expert Community.
Since joining Airbus, Michel has been spearheading diverse nonlinear FEA simulation solutions in the areas of both static and dynamic applications. His expertise has an emphasis on bird strike, tyre debris impact, open fan blade-out, hail, ballistics, crashworthiness and ditching.
Dr. Michel Mahé led the A350 Fuselage Crashworthiness Development paving the way for future aircraft composite structures certification by analysis. He has applied this approach to evaluate structural design concepts while jointly setting up certification by analysis supported by a test pyramid building block approach.
Michel additionally led the first operational application of complete aircraft nonlinear FEA detailed modelling, contributing to anticipate and de-risk the A350 roadmap to first flight and certification (static test campaign).
Dr. Michel Mahé has also been involved in several accident investigations, setting up and conducting specific dynamic analysis & testing. He's presented the findings of these investigations at trial and in court proceedings.
Michel's computational structural mechanics expertise draws upon several technical disciplines especially covering nonlinear FEA (both static and dynamic) and also covering progressive damage modeling. Michel is currently involved in transverse multiphysics projects bridging structure (airframe), aerodynamics, loads and aeroelasticity.
Dr. Michel Mahé has taken part in many national and international research projects including six EU funded projects. He has authored over 40 international journals and conference papers, and is a member of the scientific committee of several scientific organizations e.g. NAFEMS, 3AF, CMH17. Additionally, he is professor of computational structural mechanics at Supaero and Eurosae.
A graduate in Structural Mechanics from ENS Cachan in 1986, Dr Michel Mahé received his doctorate degree from Supaero in 1990. His PhD thesis is applied to nonlinear FEA of composite laminates.
KEYNOTE LECTURE:
"Dynamic Multiphysics Simulation Supporting Accident Root Cause Identification"
Foreign object on the runway can initiate tyre damage during takeoff phase. Tyre debris can then be ejected and potentially impacting wing lower skin panels possibly leading to fuel tank damage.
Tyre debris impact simulations can be carried out on a representative fuel tank model. Dynamic analysis can address fluid-structure interaction, highlighting the role of the fuel in the fuel tank deformation chronology.
Detailed model validation can be performed through dynamic physical testing on a representative instrumented fuel tank structure.
The multiphysics simulation model and methodology, thus validated, allow catching a realistic behavior of both structural parts and fuel providing robust virtual testing means to address fuel tank behavior following tyre debris impact event.